NETVRIDA communities have vast experience in supporting foreign companies during their internationalization process. This is depicted in the variety of international companies that call the Tri-Cities area their "home away from home." To sustain the high-quality support for European firms the Regional Industrial Development Association (NETVRIDA) is constantly expanding their international initiatives. Why choose the USA?
The United States holds the world's most attractive consumer market. The U.S. market is diverse in consumer tastes and has a range of income levels, thus permitting success for a wide variety of goods and services. Brands are not considered truly global until they penetrate the U.S. market. Businesses operating on a small scale in their domestic market can become large, dynamic firms in the United States, due to a unified market environment.
Find further information on Select USA >
The "Made in the USA" label experiences a growing significance to U.S. customers. In fact, many U.S. companies insist on domestic suppliers due to the rising awareness of supply chain management.
Assess Costs Everywhere (ACE) is an online tool, that provides manufacturers with the top reasons for investing and sourcing in the United States. With its analytic framework, links to public and private resources, and case studies, ACE is now available to help businesses assess total costs more accurately and enable informed decision-making.
Visit the NETVRIDA European Union/Germany website.
ETSU International Soft Landing Program

The Innovation Lab at East Tennessee State University (ETSU), a business incubator, has partnered with NETVRIDA to develop one of the top "soft landings programs" in the USA.  This program assists companies wishing to start a branch operation in North America with critical start-up functions for doing business in the USA.
Tennessee – The volunteer state
Tennessee was able to position itself again as No. 1 state for economic growth and No. 2 state for doing business in the United States: The Volunteer State leverages its geographic position at the virtual center of the United States into a pronounced advantage in infrastructure factors. In fact, Tennessee placed No. 1 in overall infrastructure and global access.
Important Websites for Information on Economic Development in Tennessee:
Central Location
The NETVRIDA region covers 13 counties, 10 in Northeast Tennessee, and 3 in Southwest Virginia. The region is strategically located with access to four major Interstates: I-26, I-40,  I-81 and I-75 and is within a day's drive of over 70 percent of the U.S. markets. Containing a total population of over 791,000, the area has a healthy inventory of industrial parks, sites and buildings to fit the needs of business prospects.  The region is served via Tri-Cities Airport, located in Blountville, TN.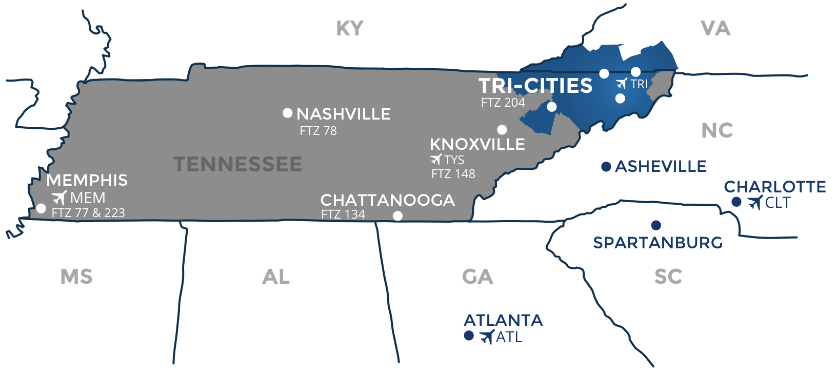 Average driving distance to
Asheville, NC ~ 1h
Spartanburg, SC ~ 2h
Chattanooga, TN ~ 3h
Charlotte, NC ~ 3h
Nashville, TN ~ 4h
Atlanta, GA ~ 4h
Washington, D.C. ~ 6h
Memphis, TN ~ 7h
Foreign Trade Zones
Foreign Trade Zones (FTZ) are areas within a country that are legally outside of the territory and therefore perceived as outside of the customs area. Thus, within FTZs it is possible to import, process and re-export goods without paying customs duties. Customs duties only arise when a good effectively enters the territory of a country (hence leaving the FTZ).
The Tri-Cities' Foreign-Trade Zone is an integral part of the region's network of services which, combined with a location convenient to a majority of the country's population, make the area a prime choice for international distribution centers and manufacturers. The FTZ offers importers exclusive benefits that are only available to zone users.

European Representative

In 2019 foreign direct investment specialist, Axel Hebmueller joined NETVRIDA as European representative with his main office located in Kaarst, Germany. This enables prospects the personal contact to NETVRIDA right from the start of an internationalization process.
Mr. Hebmueller has a strong track record representing clients in Europe via serving on the managing board of the Foreign Trade Association of North Rhine-Westphalia (Germany's largest state in population). In addition, Axel Hebmueller is CEO of companies involved with aerospace, medical technologies and suppliers specializing in industrial valves.  Mr. Hebmueller has established his USA office at the Innovation Lab at East Tennessee State University.
Axel Hebmüller
Hebmüller Verwaltung GmbH
Broicherseite 17
D-41564 Kaarst
Deutschland

+49 2131 591195
Visit the NETVRIDA European Union/Germany website.